You are ready to have your surgery. You did your homework, researched clinics, doctors, all about the procedure, did your budget and you probably even had to sacrifice your work vacations to give thinext step that will bring you closer to achieve your dreams and show a new version of you.
In VIDA Wellness and Beauty we know that not everything is rainbows and butterflies and we are aware of the effort that a lot of the patients do to come and have surgery in Mexico. This is why our number one priority on the list is your serenity. A proof of this is our Recovery Boutique, a facility precisely designed for those patients who travel alone or with a companion, where they can relax and recover with the tranquility of being under the care of a nurse 24 hours and under the same roof as their surgeon.
The Recovery Boutique is located at VIDA Wellness and Beauty Center second floor and it has 9 comfortable rooms, doubles and singles, with showers perfectly designed for post op patients. We have a lobby, waiting room with LED television, a dinning area where you can have your meals, read a book, have a cup of tea or just relax. If you wish to have some fresh air, there is also a little patio, Wi-Fi 24 hrs. and cable TV in each room.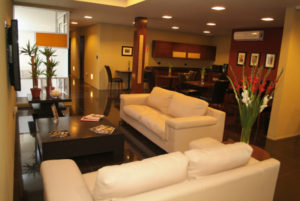 The Recovery Hotel Boutique is run by experienced nurses the 24 hrs. ready to assist you in every moment. Miriam is a nurse, with over 15 years of experience taking care of Dr. Quiroz patients, our head surgeon. "Here, we receive patients from all over the world and it's nice to see how in certain occasion patients get here with little or low self-esteem and when they go back they look happier and more confident, you can tell by the way the look." Miriam says.
Perla Hernandez is another nurse who works at the Recovery Boutique, "The most convenient thing of staying here is that their surgeon is here in the same building and if you have any issue the doctor sees you right away, besides all the personnel that works here is 100% bilingual and us as nurses are looking after you the whole recovery time"
So now you know, there are no excuses to have the procedure that you have being thinking about all this time! For your bariatric or plastic surgery or if you wish to spend a few days pampering yourself in our Medi Spa, get checked with our internist, have some botox or fillers, in VIDA Wellness and Beauty you will find the comfort to rest under the care of 24 hour nurses in our Recovery Boutique. Ah! We almost forgot to mention that with your night stay you have your three meals a day included, so you don't have to worry about what to eat. If you wish more information or want to book, you can visit us at www.vidawellnessandbeauty.com or call us directly to 619 955 6845 from the United States or to (664) 6086460 from Mexico.