Alejandro Quiroz, MD FACS, Plastic Surgeon at CosMed Plastic Surgery Center in Mexico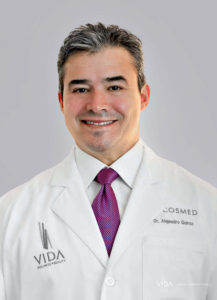 Dr. Quiroz received his medical degree in 1977 from the prestigious Universidad La Salle in Mexico City. Earlier he attended the National University of Mexico where he served as Student Body President and graduated with honors.
After obtaining his medical degree, Dr. Quiroz completed a program for foreign medical graduates at the University Of Miami School Of Medicine.
---
He continued his training by attending a General Surgery Residency Program at the National University of Mexico and completed a three-year fellowship specializing in a Plastic Surgery at the National University of Mexico. In 1984 Dr. Quiroz obtained his Board Certification in Plastic and Reconstructive Surgery.
Dr. Quiroz is a Board Certified, Bi-lingual, Bi-cultural International Surgeon, Licensed in both the United States and Mexico.
Dr. Quiroz pursued further studies and specialization in cosmetic surgery by completing a one year fellowship at Connell Medical Clinic, followed by a one year fellowship in internal medicine at the University of California at Irvine.
Throughout his wealth of experience and years within the plastic surgery field, Dr. Quiroz had the privilege of completing fellowships with other prominent plastic surgeons like Dr. Bruce Connell of California, Dr. Howard Gordon and Dr. Thomas Baker of Miami, Dr. Richard Mladick of Virginia, Dr. Robert Flowers of Honolulu, Hawaii, Dr. Edward Terino of Thousand Oaks, California, and Dr. Michel Nicole of Newport Beach, California. Dr. Quiroz has also contributed to the successful training of other surgeons within his field.
CosMed Medical Clinic was established in 1987 by Dr. Quiroz. As CosMed's founder and Chief Surgeon Dr. Quiroz has dedicated the last twenty years to performing thousands of cosmetic surgeries using the most advanced procedures and techniques. Dr. Quiroz is a Bi-lingual, Bi-cultural International Surgeon, Licensed in both the United States and Mexico.
Dr. Quiroz is a member of the following Medical Societies:
American Society of Aesthetic Plastic Surgery (ASAPS)
American Society of Plastic Surgery (ASPS)
International Society of Aesthetic Plastic Surgery (ISAPS)
Asociacion Mexicana de Cirugia Plastica, Estetica y Reconstructiva (AMCPER)
San Diego Plastic Surgery Society (SDPSS)
Consejo Mexicano del Cirugía Plástica, Estética y Reconstructiva, A.C. (CMPER)
Federacion Ibero Lationoamericana de Cirugía Plástica (FILACP)
Dr. Quiroz specializes in:
Body Contouring after weight loss (Post Bariatric Surgery)
Face lift
Neck Lift
Brow Lift
Breast Augmentation
Breast Lift
Eyelids Surgery
Tummy Tuck
Buttock augmentation
Dr. Quiroz's patient's before and after photos have been selected to be featured on The Consumer Guide to Plastic Surgery, a website providing comprehensive information on facelift, liposuction, rhinoplasty, tummy tuck, weight loss surgery and breast enhancement procedures, such as breast augmentation, breast implants, breast lift and breast reduction.
Now you can have an in depth consultation with a CosMed Plastic Surgeon in the privacy of your own home.
Our Virtual Consultation is private, safe, discrete and Free.