Plastic Surgery for Her: Facelift and Neck Lift in Tijuana Mexico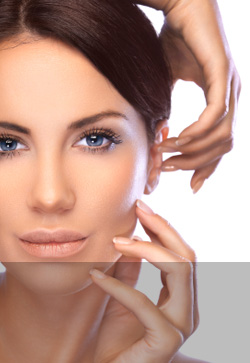 FACE LIFT AND NECK LIFT
>>Before and After Photos of this procedure
One of the first places to notice effects of aging is the face and neck. The effects of gravity, sun exposure, free radicals, weight loss and daily stress can become visible in the form of deep creases between the nose and mouth, slack jaw line, and fat deposits in the neck. A facelift (rhytidectomy) can turn back time and improve/reduce the effects of aging. By tightening underlying facial muscles and removing areas of excess fat, CosMed's medical doctors can help you achieve a more youthful and naturally refreshed look. A facelift will smooth and lift. Our medical team can perform your facelift alone or in conjunction with other procedures like a forehead lift, eyelid surgery, or nose reshaping. A face lift is a true expression of your surgeon's artistic ability.
BROW LIFT (FOREHEAD)
Get rid of the tired angry look and restore the youthful, refreshed look that your face once had with a brow lift. Our medical doctors use a technique that can improve the horizontal lines and furrows in your forehead. By removing these forehead muscles, a brow lift can raise the eyebrows and remove frown lines. CosMed's medical doctors use a conventional surgical method that hides the incision behind the hairline, resulting in smoother forehead skin and a refreshed more youthful appearance.
EYELIDS (BLEPHAROPLASTY)
Eyelid surgery is one of the most common procedures that is performed to instantly restore your face's youthful appearance. By removing fat, excess skin and muscle from the eyelid area, blepharoplasty can correct dropping upper eyelids and puffy bags below the eyes. You'll look refreshed, energized, and may even experience better vision after your eyelid surgery. Receive this procedure alone or in conjunction with other facial enhancements to complete your new look.
LIP ENHANCEMENT
Cosmetic enhancements for the face and lips can warrant most dramatic results. If you have naturally thin or ill-defined lips, or if you just want to plump up to give your lips a boost, the medical doctors at Cosmed Clinic can provide a pleasing and attractive solution. Self-consciousness about fine lines, wrinkles, and other facial areas can all be diminished with the addition of injectable fillers. The medical doctors and staff at CosMed always stay up to date with the latest techniques and new products to ensure that your procedure is safe and effective.
(RHINOPLASTY)
>>Before and After Photos of this procedure
Reshaping of the nose is one of the most common and most requested aesthetic and reconstructive surgery procedures. Cosmed can help to reduce or increase your nose size, narrow the span of nostrils, and completely reshape the angle between your nose and upper lip. Our CosMed doctors have years of experience in correcting birth defects of the nose, reshaping the nose due to injury or breathing problems or just to have a more beautiful nose. Rhinoplasty can be performed alone or in combination with other facial rejuvenation procedures.
EAR (OTOPLASTY)
Ear surgery is becoming more commonplace within modern plastic surgery techniques. Otoplasty can improve the size, shape or positioning of your ears creating balance and proportion to your other features. Very often performed on children ages 4 to 14, Otoplasty can set back prominent ears or reduce the size of large ears by the time the ears reach their full grown size. Ear surgery can be performed on adults and children.
CHEEK ENHANCEMENT
We have always thought of high cheekbones as an important part of an attractive face. Using cheek implants cheekbones can be made fuller by providing a permanent and more predictable look and sometimes fat may be injected onto specific areas to restore a more youthful fullness to your face.
CHIN AUGMENTATION (MENTOPLASTY)
>>Before and After Photos of this procedure
Chin augmentation strengthens the appearance of a receding chin by increasing its projection and contour. Patients who wish to receive surgery of the chin either desire an enhancement (implant) or reduction (bone surgery). The goal of this surgery is to improve your profile by creating a balance between your chin and other facial features. Increasing your self-esteem.
CHIN LIPOSUCTION
>>Before and After Photos of this procedure
Chin liposuction is done with tumescent liposuction under local anesthesia and a mild oral sedative if prefered by the patient, it is done moth microcanulas and it's goal is to eliminate moderate amounts of adipose tissue localized under the chin, it can also be combined with Ultrasound Assisted Liposuction (UAL)
The perfect candidates for Chin Lipo are usually young individuals with good skin tone.
HANDS
Hands are an important indicator of age. Fat Injections as a filler, Thermage to tighten the skin and Fraxel to get rid of fine lines, sun and age spots, all to smooth and tighten the skin on your hands. CosMed's doctors will evaluate which method of treatment is best for your individual needs for hands with a more youthful appearance. Learn more about Hand Rejuvenation