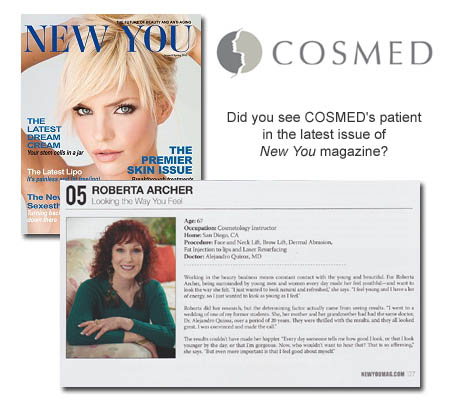 Did you see COSMED's patient featured in the Spring 2012 issue of New You magazine? She was featured as one of this month's top 5 Inspired Patient success stories!
Here's an except from the article. To see the original printed version, click here.
Roberta did her research, but the determining factor actually came from seeing results. "I went to a wedding of one of my former students. She, her mother and her grandmother had had the same doctor, Dr. Alejandro Quiroz, over a period of 20 years. They were thrilled with the results, and they all looked great. I was convinced and made the call".
The results couldn't have made her happier. "Every day someone tells me how good I look, or that I look younger by the day, or that I'm gorgeous. Now who wouldn't want to hear that? That is so affirming," she says. But even more important is that I feel good about myself."
Roberta  had a Face lift, Neck lift, Brow lift, Dermal Abrasion, Fat Injection to Lips and Laser Resurfacing at COSMED Plastic Surgery Center in Mexico.