Contributing author Dr. Carlos Castañeda, a board certified plastic surgeon at CosMed Clinic in Tijuana, discusses the differences between saline and silicone breast implants and provides an overview of access sites and implant positioning.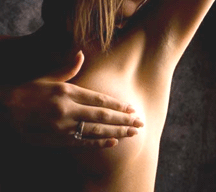 Breast augmentation is the most common plastic surgery procedures performed today. Women choosing to undergo breast enlargement surgery, also known as augmentation mammoplasty, have various reasons for wanting to improve their breast shape and size. Some of these personal reasons center around
The perception of underdeveloped breast
Loss of breast volume and shape due to pregnancy, nursing or weight loss
Restoring balance to asymmetrical breasts or
Reconstructive goals following breast surgery procedures.
Whatever your reasons are for considering breast augmentation, finding an experienced surgeon who can guide you in choosing the right implants while making you comfortable and keeping your aesthetic goals in mind is critical in achieving the best and most natural results.
Saline or Silicone  – Which is Better?
People often ask me which type of implant is better – saline or silicone? The truth is, both are considered safe and excellent choices and neither is "better".  Each has its advantages and disadvantages and it's important to understand them while keeping your body type and aesthetic goals in mind.
Here's an overview of the two types of implants available and their pros and cons.
Saline breast implants are made of silicone rubber shell filled with saline, or 0.9% NaCl, the same type of solution used in IV bags that when attached to your vein, run directly through your blood stream. Saline breast implants have the advantage of smaller incision size and that the implant can be adjusted individually from one side to the other if there is a difference in breast size. The main advantage of saline breast implants is that when they fail, a small risk but definite one, it is easy to tell because the breast deflates. While saline poses no health risk because it gets reabsorbed into the body, replacing the saline implants immediately is recommended and will therefore depend on your and your surgeon's schedule. If you have a history of autoimmune disease such as rheumatoid arthritis, your surgeon may also recommend saline implants. The main disadvantage of saline, however, is that it can feel "watery" or have a "ripply" effect.
Silicone breast implants are gel-filled silicone capsules. Its biggest advantage is that it feels natural and similar to human tissue when implanted.  Generally, silicone implants have better retention of shape and are less likely to fold or collapse.  And with the availability of a wide variety of silicone implant shapes and sizes there is greater flexibility in achieving an excellent aesthetic outcome. However, the main disadvantage is that it is difficult to tell when the implant integrity has been compromised. Though it is reported to have low incidence rates of rupturing, the only way to detect "leaky" gel implants is currently via MRI.
Where are the implants positioned?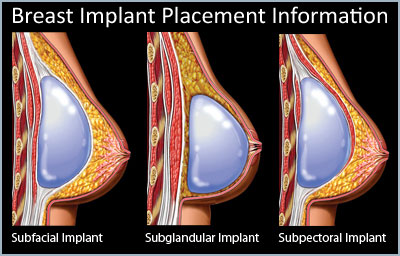 The surgeons at CosMed Clinic will help you decide which position and access points are best for you depending on your body type and aesthetic goals.  The three major implant placement are highlighted below.
1. Subglandular — the implant is placed under your natural breast tissue or under the breast gland. If there is little tissue, a rippling effect may be observed.
2. Subfascial — the breast implant is placed under the fascia of the pectoralis muscle providing good implant coverage.  Little or no rippling occurs and the patient experiences less pain during recovery in comparison to the submuscular approach.  It is also associated with less incidence of capsular contracture.
3. Submuscular or Subpectoral — the breast implant is placed under the pectoralis major muscle.  When breast tissue is minimal or not adequate to provide good implant coverage, the submuscular techniques is used.
What are the access points?
1. Periareolar — an incision in the natural skin color change between the breast and areola.  This technique results in unnoticeable scars.   On mild ptotic or sagging breasts this incision, when performed on the upper half of the areola, can be used for a "crescent shape breast lift" gaining up to an inch in lift of the whole nipple-areola complex.
2. Inframammary — an incision is made below the breast in the natural crease.  This allows for easy access and for precise dissection.  The incision results in a slightly more visible surgical scar.
3. Transaxillary — an incision made to the axilla, this requires extensive dissection to create the implant pocket and leaves a showable scars when wearing no sleeves.
4. Transumbilical — an incision is made over the belly button.  A narrow tunnel is dissected under the abdominal skin and then an implant pocket made over the pectoralis muscles.  The implants are then filled with saline.
5. Transabdominal — as in the previous the implants are placed through blunt sidection while the patient undergoes an abdominoplasty or tummy tuck procedure, again, saline filled implants a placed.
To determine which breast implant is best for you, the initial examination involves evaluating your breast shape and size while understanding your aesthetic goals.  Together, we make a decision on the right type of implant, shape, size, and positioning technique to achieve  the most natural results.
If you are considering breast augmentation surgery to enhance your shape and would like to discuss your options, the staff and board certified plastic surgeons at CosMed Clinic can help.  Begin your journey towards a new and transformed you by requesting a free virtual consultation here.
****************
About the contributing author: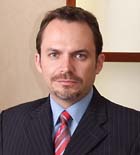 Dr. Carlos E. Castañeda, M.D. is a Plastic, Aesthetic and Reconstructive Surgeon experienced in cosmetic and reconstructive procedures.  Dr. Castañeda graduated at the top of his class from the University of Baja California and is board certified by the Mexican Council of Plastic, Aesthetic and Reconstructive Surgery (CMCPER) and is a member of the Mexican Association of Plastic, Aesthetic and Reconstructive Surgery (AMCPER).