Dr. Castañeda, plastic surgeon at COSMED Plastic Surgery Center in Mexico, answers the top 3 questions breast augmentation patients ask us concerning breast implants and cancer risk.  If you don't see your question answered below, feel free to post it on this blog, and one of our board certified plastic surgeons will provide an answer.
1. Do breast implants increase your risk of getting breast cancer?

No. This has been debated for a long time, but breast implants have been found not to be asociated with breast cancer.
2. Can you still have a mammogram if you have breast implants?
Yes.  Mammograms are recommend for women who are 40 or over, or if you are 35 with a family history of breast cancer in a first degree relative. On younger patients, a yearly Ultrasound is enough.
3.  Is it a good idea to replace my old breast implants with newer ones? Are breast implants today safer than the ones I got 5 or 10 years ago?
Currently manufactured implants are superior quality than the ones used 10 years ago. Yearly follow up and routine examination is key in detecting cancer early on. PIP implants have been recently on the spotlight because they where found to be manufactured with industrial grade silicone and they should be replaced right away (see blog post about breast implant safety). If you don´t know what brand of implants you have, contact the Doctor who performed the surgery to find out, if you don´t get a straight answer I would recommend to have them exchanged.
Breast implant exchange is a simple procedure, it is less invasive than the initial surgery when they were put in. Recovery is easy and not as painful as the first time around. Also, if you have ever considered "going bigger" it´s the right time to do it.
Looking for more information on breast implants? See "What's the Difference between Saline & Silicone" also written by Dr. Castañeda.
*************************************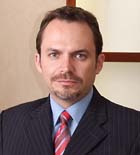 Dr. Carlos E. Castañeda, M.D. is  a Plastic, Aesthetic and Reconstructive Surgeon experienced in cosmetic and reconstructive procedures at COSMED Plastic Surgery Center in Mexico.  Dr. Castañeda graduated at the top of his class from the University of Baja California and is board certified by the Mexican Council of Plastic, Aesthetic and Reconstructive Surgery (CMCPER) and is a member of the Mexican Association of Plastic, Aesthetic and Reconstructive Surgery (AMCPER). Learn more about Dr. Castañeda